Cellular Sheet Pile (Cofferdam) Walls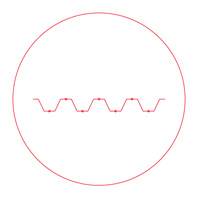 A cellular sheet pile wall, also known as a circular cell cofferdam, is typically used to isolate an area for excavation and construction.
A series of sheet pile walls are installed in circular pattern creating "cells". Cells are interconnected with sheet piles and can be backfilled with compacted granular material or concrete to create a barrier between the work zone and an adjacent body of water.
Advantages
Cofferdams provide a safe and accessible work zone in otherwise difficult or impossible conditions.
Applications
Cellular sheet pile walls are most commonly applied on marine or environmental projects where an area needs to be isolated from a body of water. SBC's most notable cellular cofferdam project is the the intake structure for the newly constructed hydro tunnel feeding the Sir Adam Beck power generating station in Niagara Falls, Ontario.
Check out some of our Cellular Sheet Pile Walls projects: