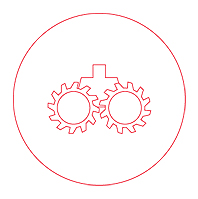 Cutter Soil Mixing (CSM) is a cost-effective solution for the rapid construction of retaining and cutoff walls by mixing soil in-situ with a cement-bentonite grout. CSM is used to improve compressible soils for the construction of cut-off walls, temporary ground support, or the reinforcement of embankment slopes.
CSM combines the advantages of soil mixing techniques and hydromill cutter technology, achieving the dual purpose of cutting into the ground and mixing in a binding agent (grout) to strengthen the existing soils to depths up to 25 metres.
Advantages
CSM employs the in-situ soils and therefore produces minimal spoils.
Applications
CSM can be employed to improve foundation soils or reinforce large embankments. It is also an alternative cut-off wall solution to address groundwater infiltration or contaminated soil containment.