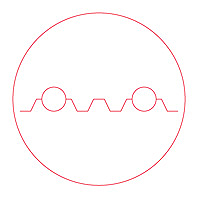 A Combi-wall is a combination of large-diameter steel pipe piles and sheet piles installed to form a retaining wall structure. Pipe piles provide resistance to overturning forces and the steel sheet piles serve as in-fill between the pipes. Combi-walls can be left in place permanently or elements can be extracted and re-used when no longer needed.
The pipe pile portion of a Combi-wall is typically installed as a bored pile which may or may not be backfilled with concrete and reinforcing steel, depending on the application. Sheet piles are installed in the spaces between the pipes with a vibratory hammer and are aligned with pipes using welded interlocking points. Other pile cross-sections such as H-piles can also be combined with sheet piles to form a Combi-wall.
Advantages
Combi-walls provide a cost-effective shoring alternative to the secant wall while providing significantly more load bearing capacity than a sheet pile wall.
Combi-walls are effective in temporary applications as the steel elements can be easily removed and re-used once the structure is no longer needed.
Applications
Combi-walls are a viable alternative in many applications where secant or sheet pile walls are used.
Check out some of our Combi-Walls projects: